A Mac compatible version of the WICReset tool (iWIC) has now been released that now provides Mac users with the ability to read and reset their Epson printer waste ink counters.
Systems Requirements
MacOS version 10.7 or newer
Intel based chipset (Not iMac compatible)
Downloading
The iWIC utility can be downloaded >> here <<
Note: Even if your machine meets the requirements above you are strongly recommended to download, install and test the tool functionality (see checklist below) to ensure your operating system is compatible before you purchase a WICReset key
Compatibility Testing Checklist:
Does the iWIC installer run and complete successfully?
Does iWIC run/start successfully
Is your printer recognised by iWIC?
Can iWIC read your waste counter successfully?
If the tool successfully completes all of these tests it should be able to reset your printer. If not, please contact me with your printer model so I can chase compatibility information and/or troubleshoot.
iWIC Printer Compatiblity
The compatibility list for iWIC is constantly updated and available directly via the tool itself. As a result we recommend you download, install and read the waste counter on your particular printer before purchasing.
Troubleshooting iWIC issues

If you're using the iWIC tool and having problems, we have a comprehensive troubleshooting guide with suggested solutions here
Free utilities and/or incompatible printers on Mac?
If your printer has a compatible "free" utility that works with windows, it will not work with your Mac. Also, if your printer is not currently supported but a compatible option exists for Windows you can still reset your printer if you have access to a suitable computer with Windows installed (preferably Windows XP).
My standard recommendation is that you borrow or purchase a windows capable laptop with Windows 2000 or XP installed, install your printer drivers, and then reset the utility using that.
You should be able to find a suitable laptop for very little money from a computer repair shop, charity shop or simply by asking friends, work, etc..
iWIC connection issues – Firewall Settings
We've borrowed this reference from Mac OS X Snow Leopard All-in-One For Dummies as it helps deal with one aspect of the iWIC that may be causing problems.
The iWIC utility does require internet access to validate your reset key with the service so you'll need to allow it to communicate with the internet while you're resetting the printer.
Firewall: Mac OS X includes a built-in firewall, which you can enable from this pane.

To turn the firewall off entirely, simply click the Stop button. Any Mac hooked up to a network or the Internet should have the system firewall turned on. (The only exception is if you're using a network that you know to be secure and your access to the Internet is through a router or sharing device with its own built-in firewall.)

When the firewall is enabled, click the Advanced button to set firewall options.

To turn the firewall on with only Mac OS X application exclusions, click Block All Incoming Connections.
To turn the firewall on with exclusions, click Automatically Allow Signed Software to Receive Incoming Connections. (This is the correct option for just about every Mac owner.) Any connection to a service (such as Web Sharing) or an application (such as iChat) that isn't listed is blocked, but you can enable access for third-party applications as needed.

To add a third-party application to the Allowed list, click the Advanced button at the bottom of the Firewall pane; then click the button with the plus sign. Navigate to the application that needs to communicate with the outside world. Click the application to select it and then click Add.
We don't recommend disabling your firewall completely as it could leave you open to attack but instead use the highlighted suggestion above to add the iWIC utility to your "Allowed list" so it can access the internet and allow you to reset your printer.
Workaround/Fix: "App can't be opened because it is from an unidentified developer"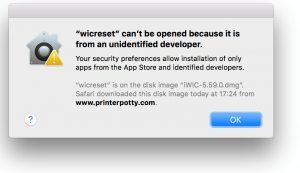 The iWIC tool is not an approved application so you will probably see the above security message when trying to install/run the iWIC tool… You can sidestep this error by using one of the following:
Launch through Finder
Ref: macOS Sierra: Open an app from an unidentified developer
In the Finder, locate the iWIC/WICReset app.
Don't use Launchpad to do this. Launchpad doesn't allow you to access the shortcut menu.
Control-click the app icon, then choose "Open" from the shortcut menu.
Click Open.
..or…
Adjust System Permissions & "Open Anyway"
This process is now detailed in this video
Click on Apple icon (top left) and choose "System Preferences".
Select "Security & Privacy" from the System Preferences window.
Select the "General" tab.
Locate the line which indicates that "WICReset was blocked from opening… " and click the "Open Anyway" button next to it (See image below).
When prompted click "Yes" to continue.
The reset utility should now run.