Short version:

If you have an Epson inkjet printer that is equipped with a maintenance box but you now find your printer has a "Service required" error that isn't fixed by replacing the maintenance box, then it's likely your printers platen waste ink pad counter is now "full". This counter may be resettable using the WICReset app.

Read below for more details and find out how to check for whether your printers platen pad can be reset by the app.
So, Epson has been designing a lot of printers lately that have a user replaceable maintenance box which is basically a waste pad holder with a chip (a sort of cartridge that absorbs ink rather than supplying it). So you never have to worry about waste ink counters or replacing the waste ink pads any more, right…! Right??!!
Maintenance Box = No More Waste Ink Problems?
Spoiler alert: Erm… Not quite!
The introduction of maintenance boxes, as a replacement for the old practice of building waste ink pads into the printer, and  tracking the waste via an internal waste ink counter, is definitely an improvement for the average end-user as it means you no longer have to fit an external waste tank or get messy changing out the waste pads. If you're particularly keen you can even purchase chip resetters that reset the chips, and replace the pads in the maintenance box yourself so you can re-use your maintenance box.
And while the chip does take over from the main waste ink counter, it doesn't deal with all of the waste ink that your printer generates.
Introducing the Platen (Waste Ink) Pad
The platen pad is the wide waste ink pad that sits along the width of the printer, under the path that the printhead takes when your printer is printing. Its role is to catch any ink that the printer dumps over the edge of the paper, particularly borderless prints.
Now, this sort of waste ink is miniscule and you'd struggle to measure it in microliters, let alone see it, so this waste pad is thinner and has much smaller capacity than the maintenance boxes hold. However, if your print usage requires you to print a lot of borderless prints you are going to hit this problem eventually.
Just as a quick point here. If you don't use your printer to do any borderless printing it's unlikely that you will experience this platen pad related "service required" error (on your maintenance box equipped printer) but we do still get occasional calls from printer owners who hit this error without doing much if any borderless printing. So it is still worth knowing about the problem, and the solution, so you don't get caught out.
Introducing the Platen Pad Waste Ink Counter
Yes, you guessed it, the platen pad has an internal waste ink counter. This counter is not controlled by the maintenance box chip, nor does Epson provide any means for you to reset it yourself.
One of our contacts spoke to a first line support tech in the UK asking for a quote to get this resolved for a SC-P900 and the price offer was a cool £900 (GBP).?!! (We're not kidding!).
Resetting the Platen Pad Waste Ink Counter
The good news here is that the developers of WICReset have anticipated this particular problem and have already added a function to reset the platen pad waste ink counter for a number of printers (with maintenance boxes) that are affected by this issue so it's worth downloading the WICReset app from 2manuals.com* and checking whether your printer is compatible and covered by this feature under the "Supported models" tab.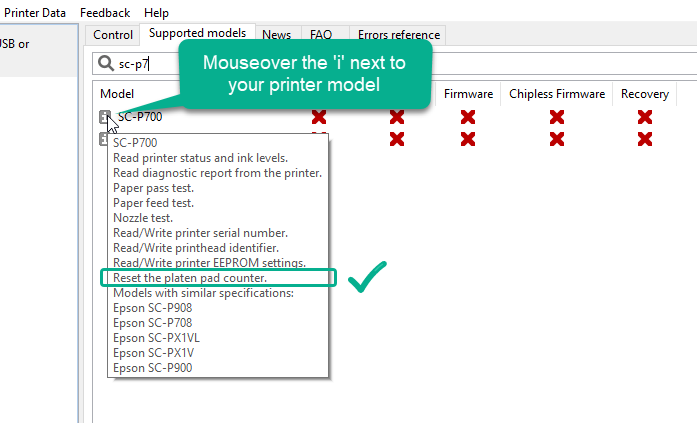 If it is, you can rest assured that you have a solution without needing to re-mortgage your house or take out a loan to pay for the crazy service centre prices.
*The Printer Potty WICReset app is currently feature limited and doesn't include this function but will in the future.
What About The Pads
When it comes to the physical waste ink pads themselves we don't currently have a recommended practice as the issue doesn't crop up too often. But from the few times we've tackled this ourselves, we just used some absorbent padding material (like nappies, ladies panty liners or similar) to soak up any excess moisture in the platen pad by leaving them absorbent side down, in contact with the platen pads, overnight. This seems to work quite well and is only needed every few months depending on just how much borderless printing is being done.
Physically replacing the platen pad is not something we'd necessarily recommend but if you can get the correct part you may decide to try.
Compatible Printers – [Platen pad reset]
This is a long list and was correct at time of editing (24th Jan 2023)
EC-4020, EC-4030, EC-4040
EC-C110
EC-C7000
EP-982A3
ET-16150
ET-16600, ET-16650, ET-16680
ET-3700,ET-3710
ET-3750, ET-3760
ET-3800, ET-3830
ET-3850, ET-4750
ET-4760
ET-4850
ET-5800, ET-5850
ET-5880, ET-7700
ET-7750
ET-8500, ET-8550
EW-452A
EW-M530F
EW-M630T, EW-M634T
EW-M670FT, EW-M674FT
EW-M770T
EW-M873T
EW-M970A3T, EW-M973A3T
L11160
L15150, L15160, L15180
L6160/L6161/L6168
L6170/L6171/L6178
L6190/L6191/L6198
L6260/L6266/L6268/L6269
L6270/L6276/L6278/L6279
L6290/L6296/L6298/L6299
L6550/L6551/L6558
L6570, L6580
L7160, L7180
L8160, L8180
PX-205
PX-605F
PX-675F
PX-M5040F, PX-M5041F
PX-M5080F, PX-M5081F
PX-M6010F, PX-M6011F
PX-M6711FT, PX-M6712FT
PX-M740F, PX-M741F
PX-M780F, PX-M781F
PX-M791FT
PX-S06
PX-S5040, PX-S5080
PX-S6710T
SC-P700, SC-P708
SC-P900, SC-P908
SC-PX1V
SC-PX1VL
ST-C8000
ST-C8090
WF-110
WF-2810/2811/2815
WF-2820/2821/2825
WF-2830/2831/2835
WF-2840/2841/2845
WF-2850/2851/2855
WF-2860/2861/2865
WF-2870/2871/2875
WF-2880/2881/2885
WF-3010/3011/3012
WF-3510/3511/3512
WF-3520/3521/3522
WF-3530/3531/3532
WF-3540/3541/3542
WF-3620/3621/3622
WF-3640/3641/3642
WF-4720/4723/4724/4725
WF-4730/4733/4734/4735
WF-4740/4743/4744/4745
WF-7110, WF-7111, WF-7115
WF-7210, WF-7211, WF-7215
WF-7610, WF-7611, WF-7615
WF-7620, WF-7621, WF-7625
WF-7710, WF-7715
WF-7720, WF-7725
WF-7820/7828
WF-7830/7838
WF-7840/7848
Workforce ST-3000
Workforce ST-4000
Workforce ST-5000
Workforce ST-7000
Workforce ST-C4100
XP-3100/3101/3105
XP-3150/3151/3155
XP-4100/4101/4105
XP-4150/4151/4155
XP-5100/5101/5105
XP-5150/5151/5155
XP-6100
XP-8500
XP-970